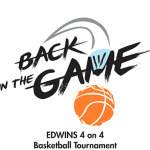 EDWINS Back in the Game 4 on 4 Basketball Tournament Championship Game
March 26
The Championships are Here!
Sunday, March 26, the EDWINS Final Four will battle on the court starting at noon at the Zelma Watson George Community Center in Cleveland.  For a more detailed look at game times, location and parking information, game rules and other FAQs, click here!
Our Sponsors and Supporters are the Real Champions!
Very special thanks to:
We Appreciate our Boosters!
Alan and Therese Blumenthal
John and Alby Glassmeyer
Patricia and Bob Pinkney
Mary and Greg Roscoe
Nicola, Gudbranson & Cooper LLC
Karen C. Smith
James D. and Margaret Madrigal Wilson
Three Cheers and Sincere Thanks to Our Champion Committee!
Chuck Ackerman
Pamela Provan Barragate
Laura Bertsch
Julie Bibb
Adrienne Deckman
Carol Feltoon
Sherri Foxman
Marie-Laure le Levreur
Susan Morgan
Lisa Newburger
Kevin Worrell