EDWINS Leadership & Restaurant Institute is a 501(c)(3) organization. We give formerly incarcerated adults a foundation in the culinary and hospitality industry while providing a support network necessary for their long-term success. Our mission is three-fold: to teach a skilled and in-demand trade in the culinary arts, empower willing minds through passion for hospitality management, and prepare students for a successful transition home.
EDWINS Leadership and Restaurant was founded in 2007 with the belief that every human being, regardless of their past, has a right to a fair and equal future. In 2011, we started teaching in Grafton Correctional Institution. Shortly thereafter, we opened the restaurant on Nov. 1, 2013.
Students are not only equipped with basic culinary skills, but are also assisted with finding employment, and have the opportunity to utilize free housing, legal services, basic medical care, clothing, job coaching, literacy programs and more.
In 2016, we opened the EDWINS Second Chance Life Skills Center, a 20,000 square foot campus for living, working and recreational enrichment.
Today, between its prison program and restaurant and institute at Shaker Square, EDWINS Leadership and Restaurant Institute graduates nearly 100 students a year.  After finishing the program or after release from prison, our graduates have gained employment in Cleveland's finest restaurants.
Our results have been astounding: at least 95% employment after graduation and less than 1% recidivism for our graduates.
EDWINS was showcased in the Oscar-nominated documentary Knife Skills by Academy Award Winning director Thomas Lennon. Knife Skills can be viewed here.
We also received three stars from the Cleveland Plain Dealer, were regarded by The New York Times as "High-Stakes Haut Cuisine", were awarded a Cleveland Magazine Silver Spoon recipient for Best French restaurant, and were called one of the best new restaurants in Cleveland by Scene Magazine. EDWINS has been featured in The Washington Post, Food and Wine, Forbes, The City Journal as well as on The Steve Harvey Show and CNN.
We continue our outreach in prisons via our Culinary Clubs and expanded to open the EDWINS Butcher Shop and Training Center in 2018 and the EDWINS Bakery and Training Center in 2019. Edwins Too opened in late 2020 and we have since transformed its model to act as a community incubator and launch kitchen for aspiring entrepreneurs in the food and beverage industry. Learn how these endeavors help solve the problem of re-entry through food.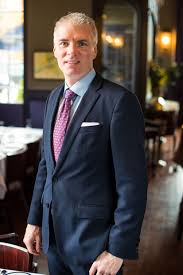 Brandon Edwin Chrostowski
FOUNDER, PRESIDENT AND CEO
Brandon Edwin Chrostowski is on a mission to change the face of re-entry in the United States. In 2007, he founded EDWINS Leadership & Restaurant Institute. His belief that "every human being, regardless of their past, has the right to a fair and equal future" is what drove the creation of EDWINS.
The idea for EDWINS was born from a break that Brandon received early in life and has grown into a six-month program conducted at EDWINS restaurant in Cleveland, Ohio as well as in prison. His approach is simple: arm those re-entering society with a skill set and a smile. The program provides training in culinary arts and the hospitality industry. Students in the program are not only equipped with basic culinary skills, they also receive help with the following: finding employment, free housing, basic medical care, clothing, job coaching, literacy programs and more.
Brandon began his career in Detroit sixteen years ago and has since trained in some of the world's finest restaurants. He received an Associate's degree in Culinary Arts and a Bachelor's degree in Business and Restaurant Management at The Culinary Institute of America. He apprenticed at Chicago's legendary restaurant, Charlie Trotters and after graduation worked at Lucas Carton, Paris' longest standing Michelin 3-star restaurant. At Lucas Carton, Brandon began to develop cutting-edge skills, while learning the intricacies of a French kitchen.
After spending time in Europe, he decided to return to the United States to further refine what he learned in France. In New York City, he worked at Le Cirque, Picholine and Chanterelle, a New York Times and James Beard award-winning restaurant, while working under the tutelage of restaurateurs Karen and David Waltuck. At Chanterelle, Brandon also worked closely with Master Sommelier Roger Dagorn and was so inspired became a certified sommelier himself.
Leaving New York to start EDWINS in Cleveland was the next step. He chose Cleveland because it is a city with high incarceration and poverty yet it is in a region who understood re-entry and its potential. In 2011 the program began in Grafton prison and in 2013 the restaurant and institute opened its doors in Cleveland. Brandon's commitment to EDWINS Leadership & Restaurant Institute has grown from teaching in prisons to opening its flagship restaurant as well as building a 20,000-square foot campus that offers free housing, workout facility, library, basketball court and other amenities.  Today EDWINS Leadership and restaurant Institute graduates over 100 students a year between its prison program and restaurant institute.
Chrostowski's philosophy is simple: "make it happen." No matter what the problem is, it can be solved with hard work and care.  This approach has led to the success of EDWINS and a revolution in the nonprofit world.  Issues such as housing, health care and substance abuse treatment are all addressed while at EDWINS. Graduates of the program have gained employment in Cleveland's finest restaurants after finishing the program or after release from prison. The results have been astounding with a 95% employment rate after graduation and 1% recidivism rate.
The success of this work and other initiatives led by Chrostowski has earned him over dozens of awards including the 2016 CNN Hero, The Richard Cornuelle Award from the Manhattan Institute for Social Entrepreneurship as well as Crain's 40 under 40. He has spoken at a number of Universities and corporations but is most proud if his TED X talk, his speech at The United States Senate and The City Club.  Fighting for fair and equal opportunities has also earned Chrostowski media from countless outlets such as The New York Times, Washington Post, The City Journal, Forbes, Food & Wine, The Irish Times, HR Magazine, The Cleveland Plain Dealer and more. He has also been featured on Steve Harvey as a Harvey's Hero, TD Jakes, CNN, NBC, ABC, NPR, WKSU and is the feature of the newly released documentary called Knife Skills by Oscar winner Thomas Lennon.
Brandon continues his commitment to the community. He was so upset with the condition of Cleveland's inner city and local leadership that he ran for Mayor in the 2017 election.  He finished fourth out of nine candidates in the primary surprising many in the political circle. Brandon is a proud father of two, Leo and Lilly and is crazy about his wife Catana!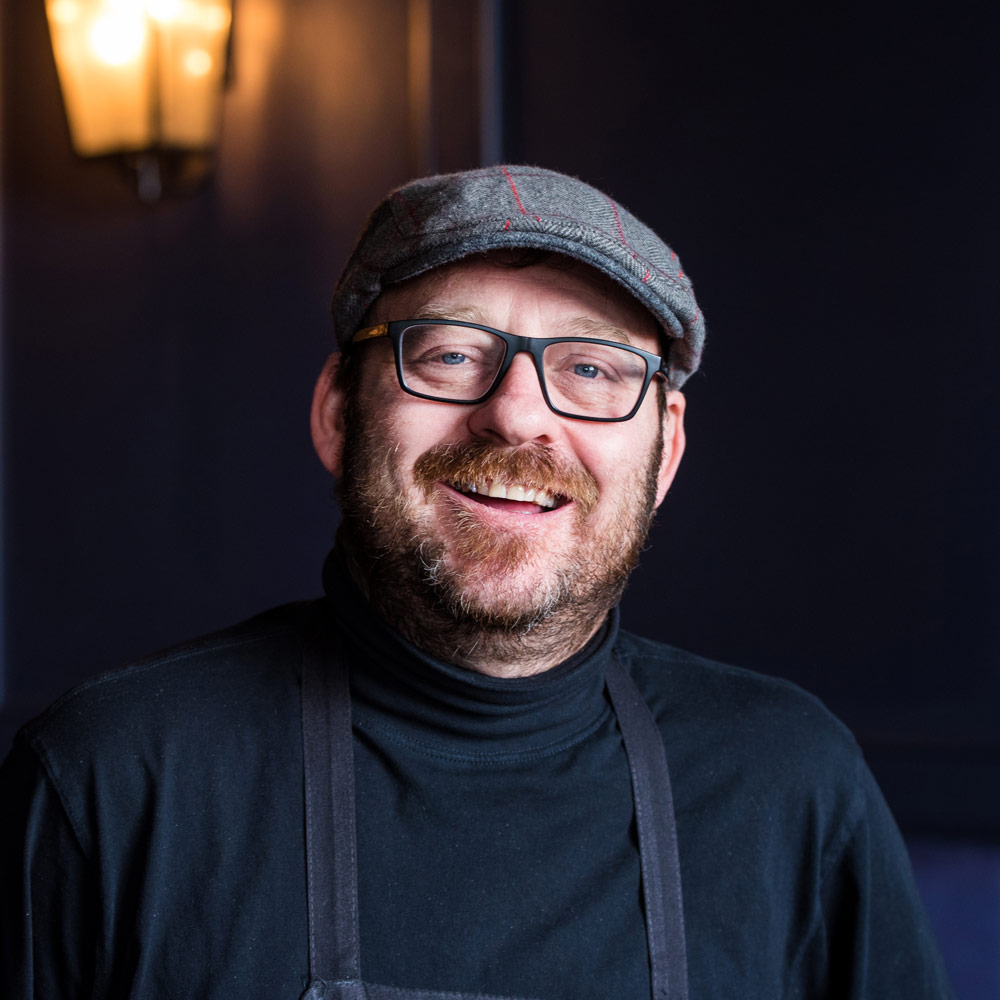 Gerry Grim
DIRECTOR OF CULINARY EDUCATION
Gerry discovered his love of the kitchen learning under one of the best cooks he knows – his mom. Many years later, after diverging from a successful career as a golf professional and teacher, Gerry graduated from Le Cordon Bleu. He shares nearly two decades of practical knowledge with EDWINS' students.
With diverse culinary experiences along the way, the highlights for Gerry include cooking under the direction of Chef Keith Coughenour at the esteemed Duquesne Club in Pittsburgh, Pennsylvania. At the Duquesne Club, he learned the dedication required to work in a professional kitchen and developed his passion for classical French cuisine.
From there, Gerry was able to expand on his classical roots when he moved back to his hometown of Cleveland and worked under Chef Doug Katz at fire food and drink. Chef Katz instilled the belief in him to use local and sustainable products and to run a fully-from-scratch kitchen.
Gerry originally joined EDWINS as a volunteer to help Brandon Chrostowski teach culinary skills at the Grafton Correctional Institution, and was so moved by EDWINS' mission that he decided to join the staff full time with the hope that he can help people who were formerly-incarcerated have a better life. Today, he is proud to serve as EDWINS' Director of Culinary Education.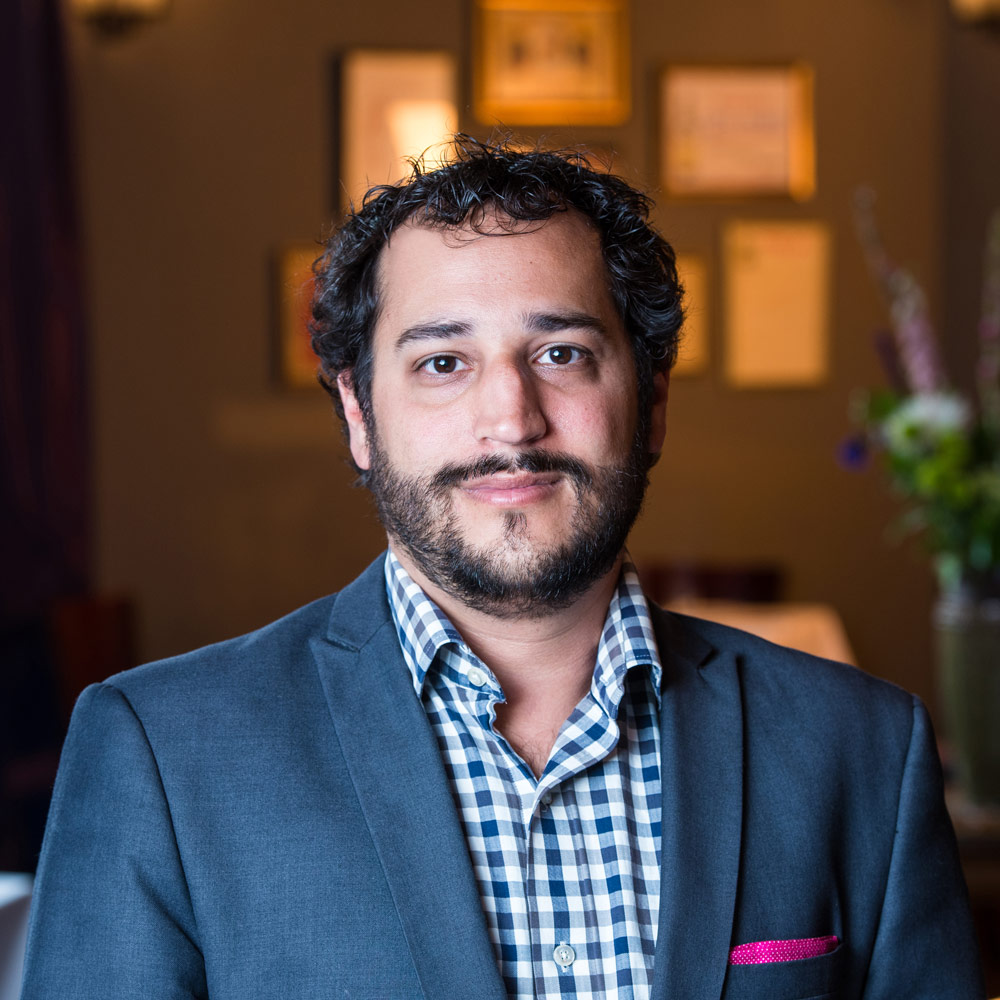 Jordan Levine
DIRECTOR OF OPERATIONS

Jordan Levine has been working in restaurants for 18 years, first washing dishes at his cousin's pizza parlor before moving up to cooking and serving positions there.
Jordan attended the University of Toledo where he earned his bachelors degree in communication. During that time, he continued to expand his culinary techniques working as a baker and cook in a local middle eastern eatery, while also writing for the school newspaper.
Moving back home to Cleveland, Jordan worked for five years as a server for the Moxie and Red restaurant group in Beachwood where he learned the fundamentals of formal dining and gained a knack for creating memorable guest experiences.
Jordan continued to hone his skills as a server at L'Albatross Brasserie where he discovered his love for French food and wine. During his time there, the restaurant was consistently praised for having the best service in Cleveland.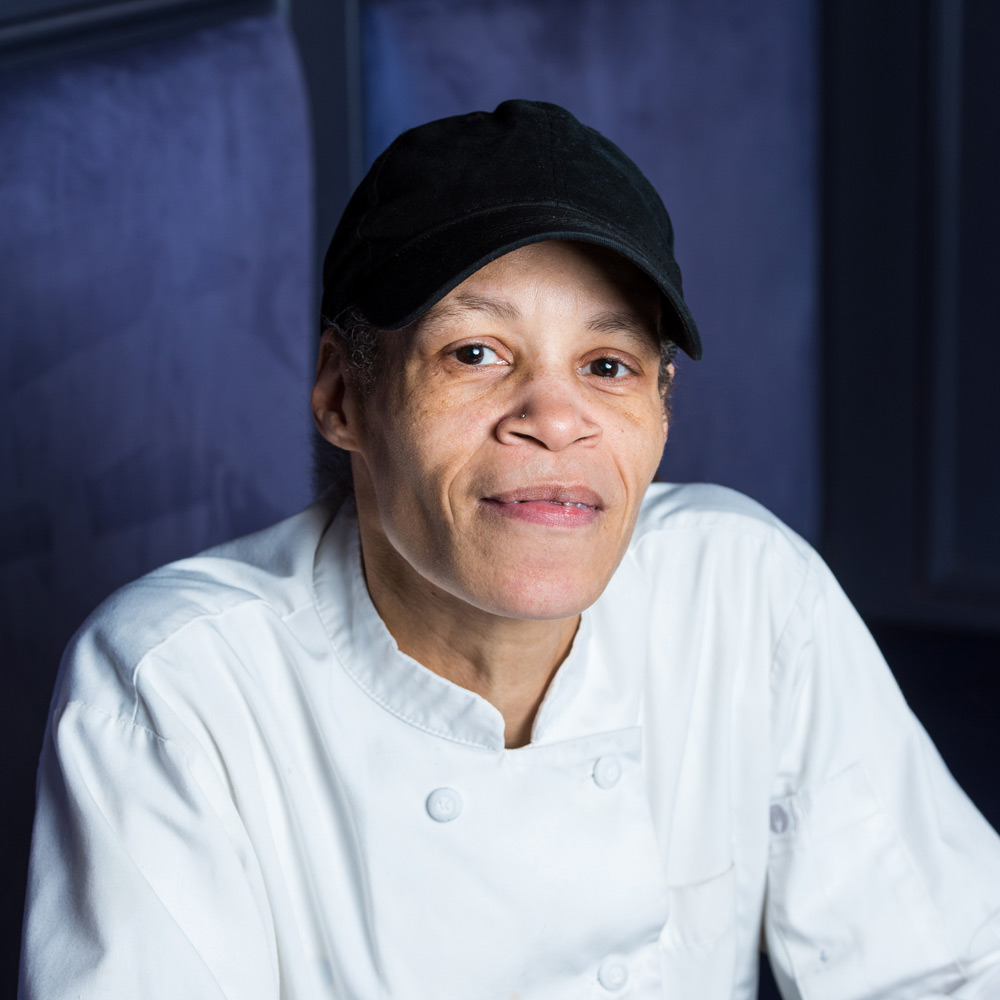 Kelly McKinney
SOUS CHEF
Kelly McKinney's culinary experience began when she entered the program at EDWINS' in 2014. She was inspired to build on her past careers in both produce and janitorial work when her brother introduced her to the program after bringing home a flier. Prior to joining the program, she had never cooked before beyond preparing food for herself and her children.
Kelly was a member of the second graduating class at the restaurant, leaving the program in September of 2014 to pursue an opportunity to cook at the Music Box Supper Club in Cleveland. She used the skills she developed at EDWINS' to adapt to a completely new style of cooking; she transitioned from preparing classic French cuisine to dishes from around the globe. After three and a half years at Music Box Supper Club, Kelly rejoined the EDWINS' community as kitchen manager in 2018.
Kelly observes that despite the growth the restaurant has experienced since her days as a student, some aspects of EDWINS' have remained the same over the years. The restaurant still feels like a home to her, where she has the opportunity to work and grow alongside incredible people.
She loves that each member of the community has their own story to share and consequently their own experiences and expertise to bring to the table. She is incredibly glad to be back at EDWINS' and loves working alongside the staff and students once more.
In addition to cooking, Kelly enjoys watching movies and hanging out with her family and friends.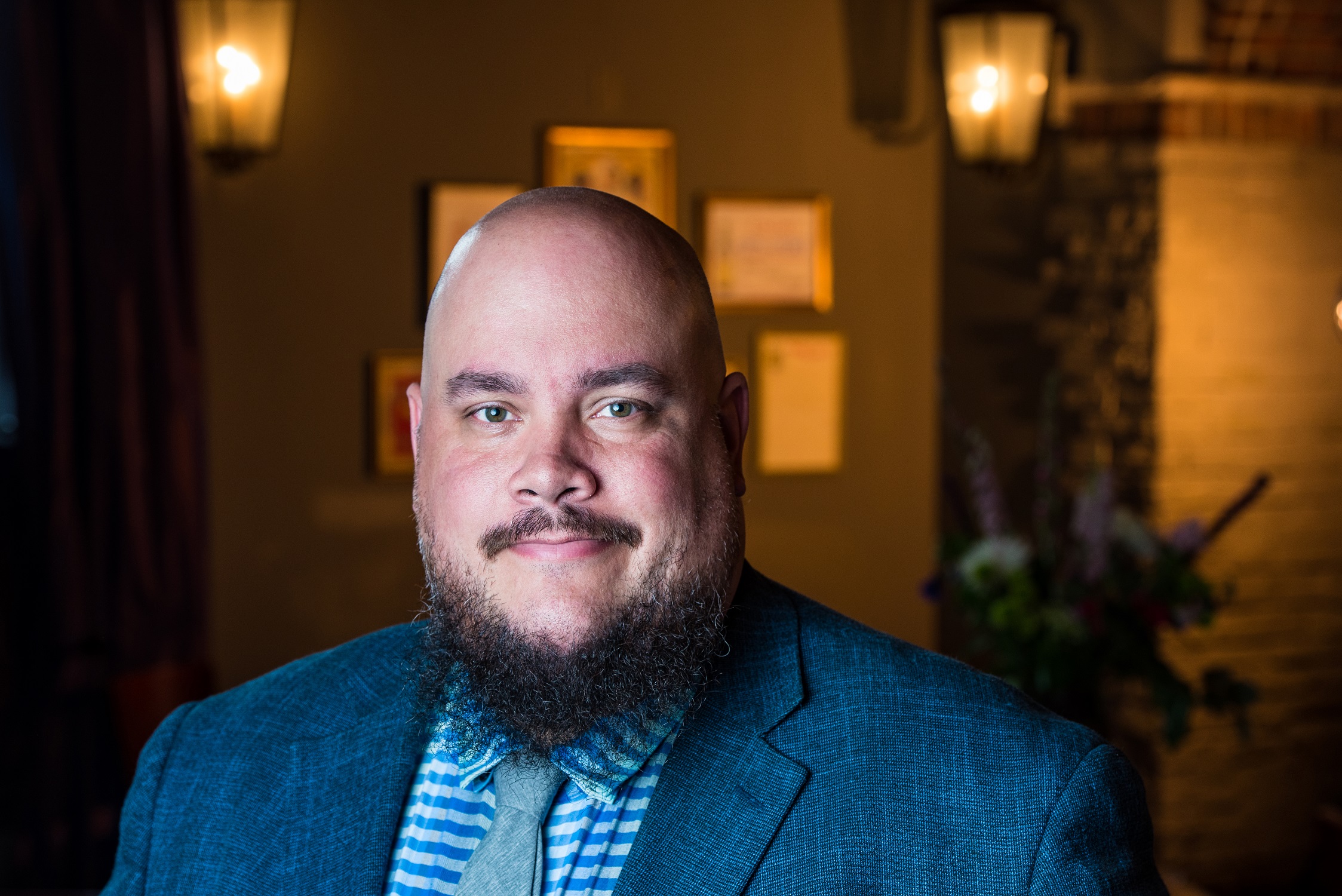 Jon Khanna
DIRECTOR OF EDUCATION
After completing his Bachelor's degree in Hospitality Management from Ohio State University, Jon began his pursuit of a career in the restaurant business. His love of fine dining and food started as a young boy while traveling through the States and Europe with his family. He had a particular liking for French food and the open air markets of Paris and Provence.
Jon has been working in the restaurant industry for over 20 years. He started young working with his mom in her gourmet food store where he leaned classic French techniques. From that point forward he continued to delve deeper into French cuisine traveling to France a number of times. After school he continued to grow his talents working for the Hyatt as well as Mayfield Sandridge Country Club where he was a sous chef. Deciding he wanted to make the move to the front of the house he joined the team at Sergio's Sarava where he worked his way up from expediter to general manager within a year.
He continued his education along the way in food and he started to delve deeper into wine eventually earning his Certified Sommelier Certificate. He also became a ServSafe Proctor and a Ohio Level 2 Food Safety Proctor and Instructor 
In his free time Jon enjoys golfing, traveling and entertaining family and friends.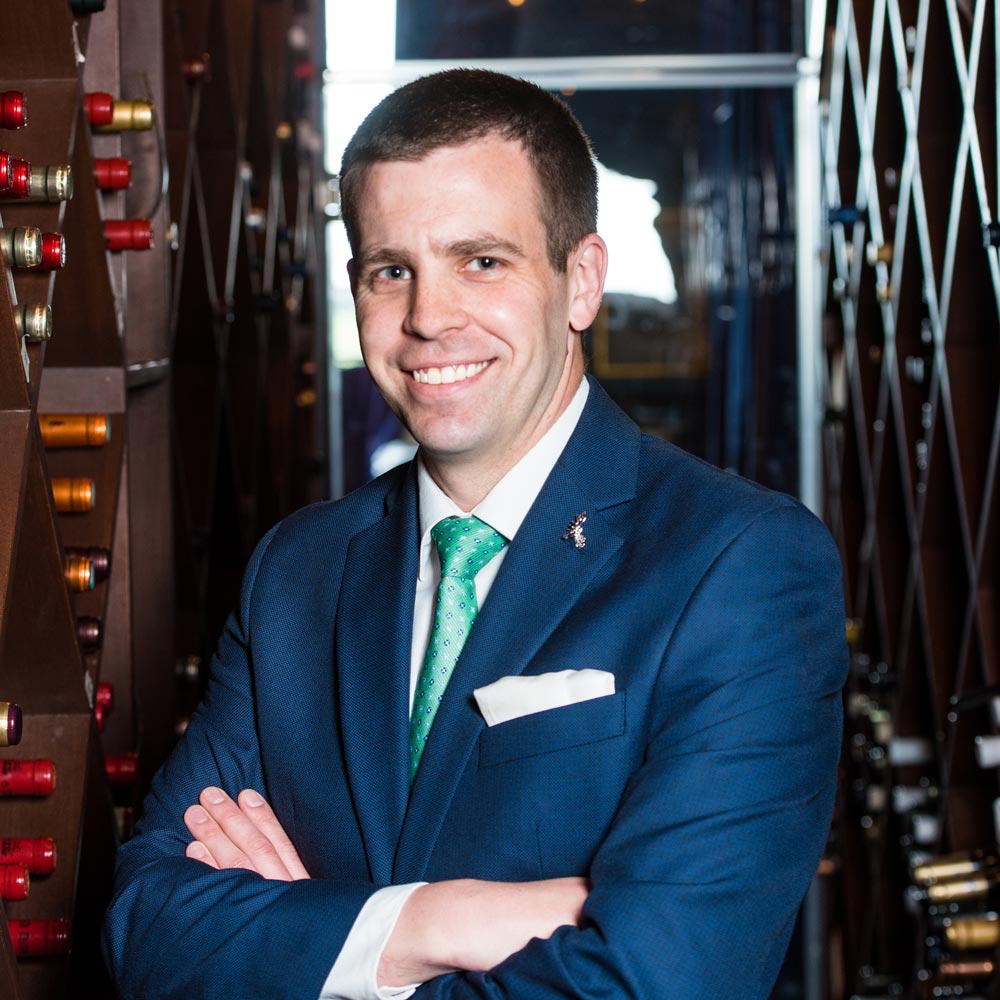 Jon Bosworth
GENERAL MANAGER
As Jon Bosworth planned his future, he was divided between becoming a teacher or going to culinary school. Jon chose teaching, completing two years at Ashland University. 
Later, after fulfilling an externship at the quintessentially innovative cocktail bar, The Spotted Owl, and graduating from the EDWINS program, Jon felt like he was getting a second chance to do what he wanted to do: combining teaching and the culinary arts. He earned a position as EDWINS' Bar Manager in 2015, where he enjoys the opportunity to teach our students how to bartend. 
Jon gravitated toward bar management because it requires both front of the house expertise and back of the house proficiency. He likes interacting with guests and excels under the pressure of the fast pace that the bar requires.
He enjoys putting his creativity to work when making a cocktail list. He also appreciates his continuing education and the fact that he learns something new every day at EDWINS. In fact, Jon recently passed the level 1 sommelier exam and is studying for level 2.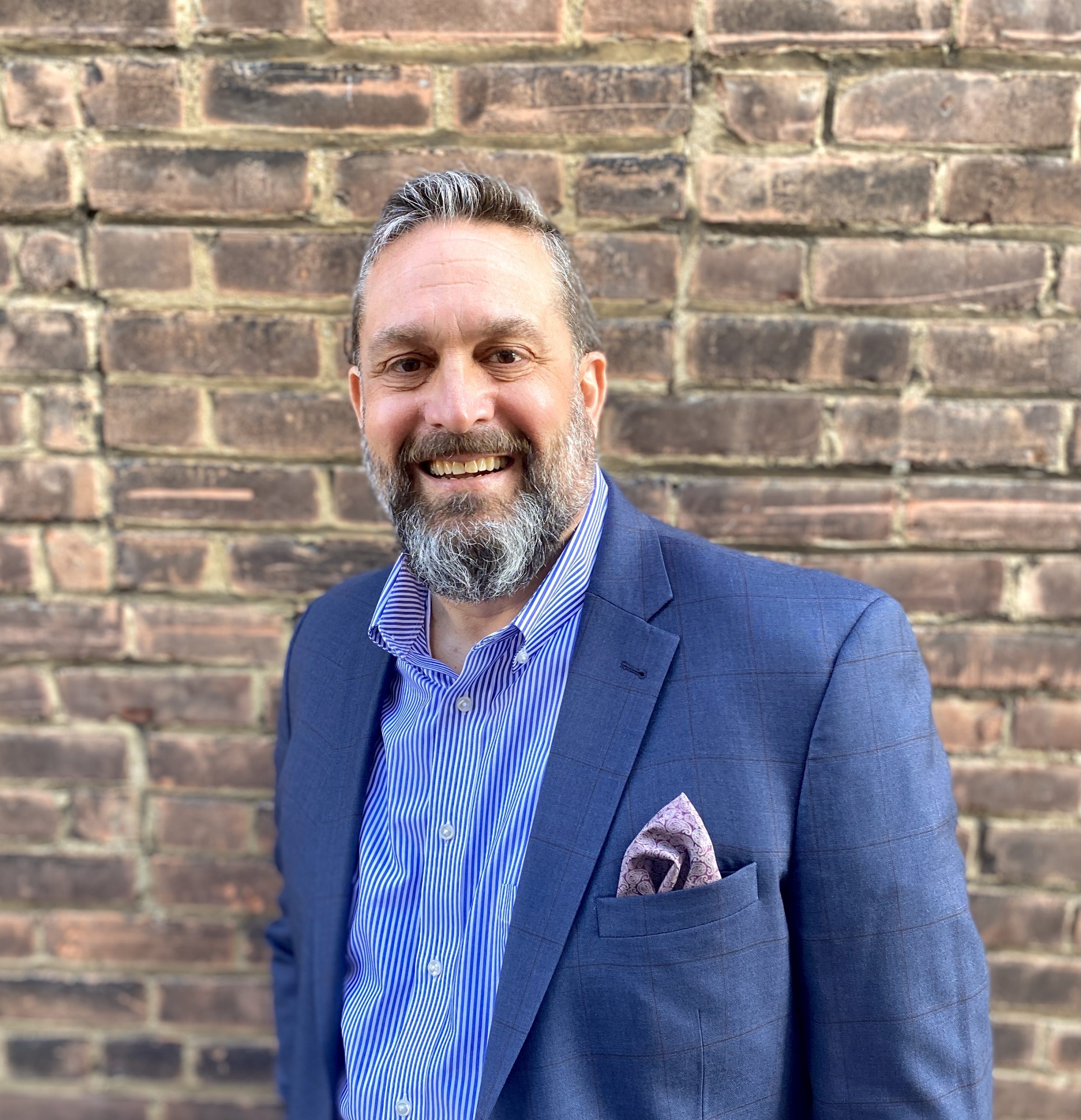 Rob Platt
VICE PRESIDENT OF DEVELOPMENT
Whether as a lay leader or in his professional life Rob has been passionate about fundraising for non-profits for 30+ years.  Upon graduating form The Ohio State University he immediately submerged himself in philanthropic Cleveland. No matter at what point he has been in his career, whether working professionally in non-profit development or building several successful national companies his true passion has always been on making a difference for others who might need a little extra help.
In his previous role as Director of Development for Values-In-Action Rob was instrumental in taking their fund-raising efforts to the next level.  He has brought his years of business and development experience to EDWINS in 2021. His ultimate goal is to make sure the organization will be well funded for years to come so it can continue to advance its mission to teach, empower, and prepare the students for a successful transition home and into society
Outside of work Rob enjoys spending time with his wife Jane and their three dogs. They have raised five accomplished children Carly, Katie, Rachel, Sam & Ben.  He is an avid motorcycle enthusiast, enjoys physical fitness, and traveling to visit close friends who have spread out across the United States over the years.
To learn more about supporting EDWINS, please contact Rob at:
robplatt@edwinsrestaurant.org.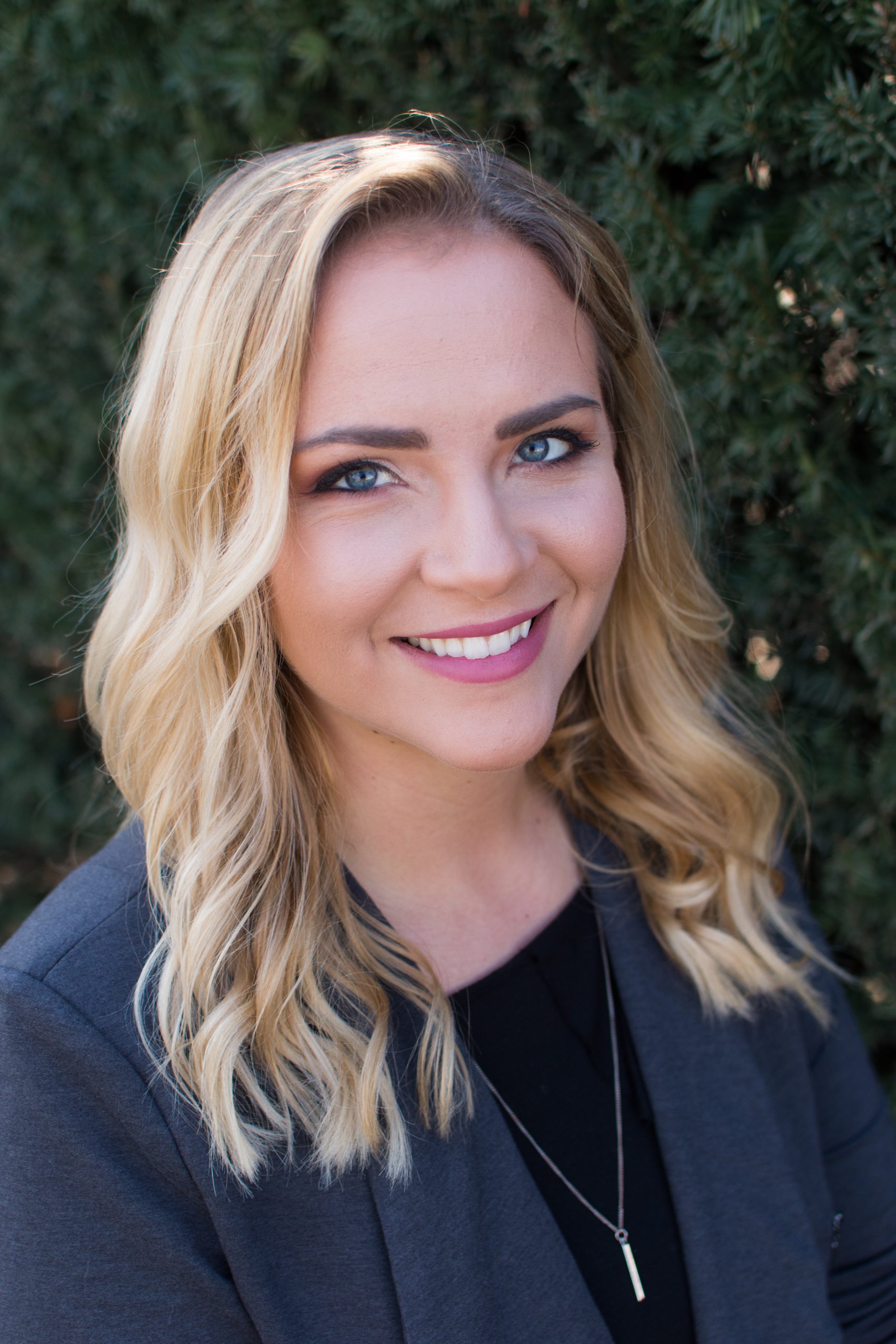 Katy Nozar
DIRECTOR  OF DEVELOPMENT
Born and raised in Cleveland, Katy is proud to serve her community through her role at EDWINS. She is inspired by the mission to help formerly incarcerated adults create a foundation in order to achieve long-term success and build up the Buckeye neighborhood.
Katy comes to EDWINS after prior roles with Healthnetwork Foundation, University of Michigan, and Make-A-Wish. Upon graduating from Bowling Green State University in 2014, she began her career in the non-profit fundraising industry and is passionate about cultivating relationships in order to ensure the long-term success of impactful organizations.
Outside of work, Katy enjoys spending time with friends and family, spoiling her pets, and cheering on Cleveland sports teams.
To learn more about supporting EDWINS, please contact Katy at katy@edwinsrestaurant.org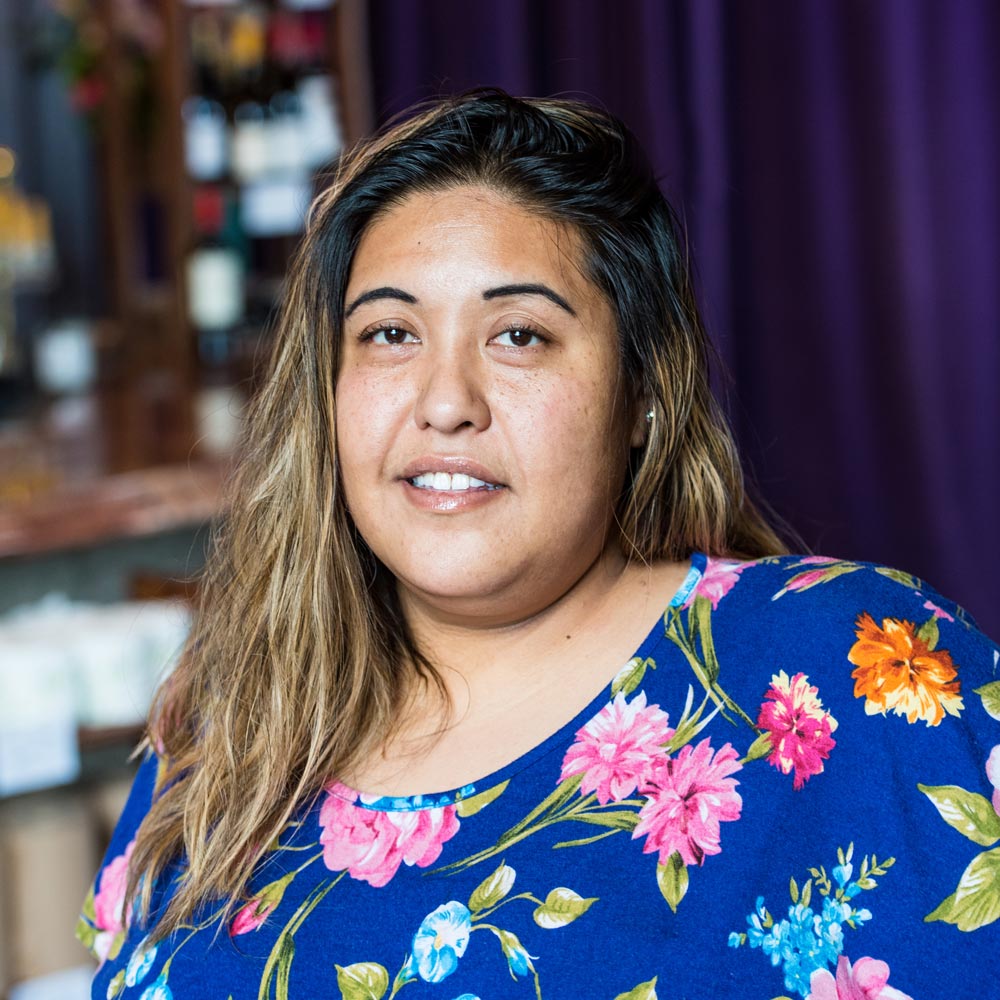 Heather Pederson
DEAN OF STUDENTS
Heather first learned she had a passion for helping others when she was in grade school. She spent a good part of her summers helping her mother take care of her elderly grandmother. This is how Heather learned to be compassionate and how she learned the power of a smile. This blossomed into a variety of different customer service jobs that started with being an associate at the Gap, then a team leader at Atlas Café in Chicago to eventually managing a successful coffee shop for more than three years. 
After working in management, Heather decided to pursue her dream of helping underprivileged youth learn about the arts. She currently attends Cuyahoga Community College.
Heather first heard about EDWINS because of her own "break" that she received in life. Since then she has dedicated herself to helping others who are in similar situations to what she was in. She started working at EDWINS in June of 2014 and was quickly promoted to Case Manager once people began to see how she truly wanted to make sure that others had a fair chance to re-start their lives, the way she was.
In her free time, you can find Heather in her garden, cooking new dishes, or walking around the metro parks looking for wild animals.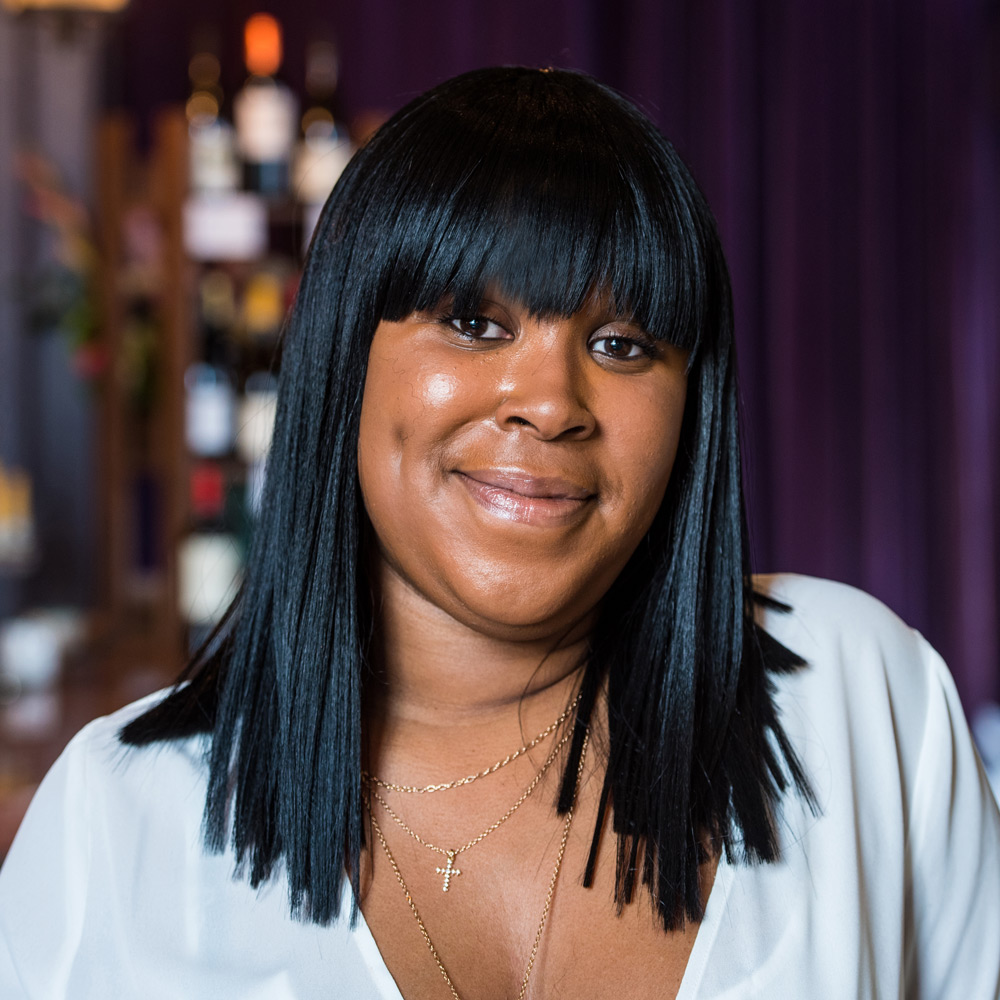 Griffin Johnson
EXTERNAL AFFAIRS COORDINATOR
Griffin Johnson brings more than two decades of hospitality experience to EDWINS.
Griffin began her culinary education at the Shoreby Club and then later Sergio's. She completed culinary coursework at the Art Institute of Dallas before joining L'Albatros near its inception, gaining extensive knowledge of fine dining practices and French cuisine during her five years there. Griffin helped open Chinato, and then enjoyed a position at Cowell & Hubbard for several years.
Always eager for new challenges, Griffin was excited to join EDWINS to learn more and grow within an organization. The EDWINS' mission and Brandon's philosophy of promotion and providing new challenges appealed to her. Griffin also grew up in the Buckeye-Shaker neighborhood on 116th and Griffing, and she has seen the power of community involvement here. EDWINS provided Griffin with the perfect opportunity to give back.