Our Mission
EDWINS Leadership & Restaurant Institute is a 501(c)(3) organization that gives formerly incarcerated adults a foundation in the hospitality industry while providing a support network necessary for long-term success. Our mission is to teach a skilled trade in the culinary arts, empower willing minds through passion for the hospitality industry, and prepare students for a successful transition home.
Individuals are not only equipped with basic culinary skills, but are also assisted with finding employment, and have the opportunity to utilize free housing, legal counsel, basic medical care, clothing, job coaching, literacy programs and more.
In 2016, EDWINS opened the EDWINS Second Chance Life Skills Center, a 20,000 square foot campus for living, working and playing.
Today EDWINS Leadership and Restaurant Institute graduates nearly 100 students a year between its prison program and restaurant and institute at Shaker Square. Graduates of the program have gained employment in Cleveland's finest restaurants after finishing the program or after release from prison. The results have been astounding 95% employment after graduation.
EDWINS has received three stars from the Cleveland Plain Dealer, was regarded by The New York Times as "High-Stakes Haut Cuisine, is a Silver Spoon recipient for Best French restaurant from Cleveland Magazine and was called one of the best new restaurants in Cleveland by Scene magazine as well as one of the top new restaurants from Eater.com.
EDWINS continues its outreach in prisons via its Culinary Clubs and has also purchased a building for the upcoming EDWINS Butcher Shop. Renovations are underway and the Butcher Shop is expected to open in 2018.
Our Team
BRANDON EDWIN CHROSTOWSKI, FOUNDER, PRESIDENT AND CEO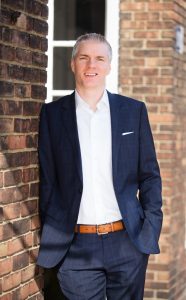 Brandon Edwin Chrostowski started EDWINS' mission to change the face of re-entry in the United States. In 2007, he founded EDWINS Leadership & Restaurant Institute. His belief that "every human being regardless of their past has the right to a fair and equal future" is what has driven the creation of EDWINS.
The idea for EDWINS was born "from a break" that Chrostowski received early in life and has grown into a six-month program conducted at EDWINS restaurant in Cleveland, Ohio as well as in prison. His approach was simple: arm those re-entering society with a skill set and a smile.
Chrostowski began his career in Detroit 19 years ago and has since trained in some of the world's finest restaurants. He received an Associate's degree in Culinary Arts and a Bachelor's degree in Business and Restaurant Management at The Culinary Institute of America. He apprenticed at Chicago's legendary restaurant, Charlie Trotters and after graduation worked at Lucas Carton, Paris' longest standing Michelin 3-star restaurant. At Lucas Carton, Brandon began to develop cutting-edge skills, while learning the intricacies of a French kitchen.
After spending time in Europe, Brandon decided to return to the United States to refine further what he learned in France. In New York City, Brandon worked at Le Cirque as a Chef de Partie and then as a saucier at Picholine. After spending several years in the kitchen, Brandon decided to expand his restaurant knowledge by working in the dining room. He chose Le Pavilion in upstate New York, which is owned and operated by former CIA instructor Claude Guermont. At Le Pavilion, Brandon learned the dynamics behind professional table service.
Brandon then had the opportunity to manage Chanterelle in New York City, a New York Times and James Beard award-winning restaurant, while working under the tutelage of restaurateurs Karen and David Waltuck. At Chanterelle, Brandon also worked closely with Master Sommelier Roger Dagorn.
Certified by the Court of Master Sommeliers in 2008, Brandon was the General Manger, fromager and sommelier of L'Albatros Brasserie for nearly five years building it into one of Cleveland's finest restaurants before leaving in 2013 to open EDWINS Leadership & Restaurant Institute.
Chrostowski's philosophy is simple: "Make it happen." No matter what the problem is it can be solved with hard work and care.  This approach has led to the success of EDWINS and a revolution in the non profit world.
In addition Brandon also has written for Northern Ohio Live, The Ohio Authority and The Cleveland Plain Dealer.  He has been featured on Ideastream, Lanigan & Malone, Fox 8, WKYC, NPR and in Shaker Life, Cleveland Magazine, Scene Magazine, Belt Magazine, Forbes, The Call & Post, COSE and has spoken at The City Club.  He also serves on the advisory committee for Slow Food's northern Ohio chapter, as well as employment committee for Cuyahoga County's office of re-entry and DYS advisory committee for employment.
He has been awarded the 2104 Movers and Shakers award, the Whitney Young Jr. Award from the Urban League, Crain's Magazine's 40 under 40 award as well as the nomination for E&Y entrepreneur of the year.  Recently he has received the 2015 Medical Mutual Pillar award recognizing the outstanding director of the year as well as the 2015 Cornuelle Award from the Manhattan Institute which recognizes the creative energy of the non-profit sector by highlighting new ideas led by social innovators.
Also in 2016, Brandon was named a CNN Hero and also received the Frank J. Battisti Memorial Award and Smart 50 Award, as well as the volunteer of the year award from Grafton Correctional Institute.
GERRY GRIM, DIRECTOR OF CULINARY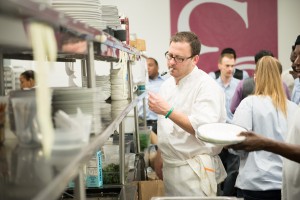 Gerry Grim discovered his love of the kitchen learning under one of the best cooks he knows – his mom. Many years later, after diverging from a successful career as a golf professional and teacher, Chef Grim graduated from Le Cordon Bleu. He now brings more than a decade of practical knowledge to the EDWINS' kitchen.
With diverse culinary experiences along the way, the highlights for Chef Grim include cooking under the direction of Chef Keith Coughenour at the esteemed Duquesne Club in Pittsburgh, Pennsylvania. At the Duquesne Club, he learned the dedication required to work in a professional kitchen and developed his passion for classical French cuisine.
From there, Chef Grim was able to expand on his classical roots when he moved back to his hometown of Cleveland and worked under Chef Doug Katz at fire food and drink. Chef Katz instilled the belief in him to use local and sustainable products and to run a fully-from-scratch kitchen.
Chef Grim originally joined EDWINS as a volunteer to help Brandon Chrostowski teach culinary skills at the Grafton Correctional Institution, and was so moved by EDWINS' mission that he decided to join the staff full time with the hope that he can help people who were formerly-incarcerated have a better life. Today, he is proud to serve as EDWINS' Director of Culinary.
---
JORDAN LEVINE, GENERAL MANAGER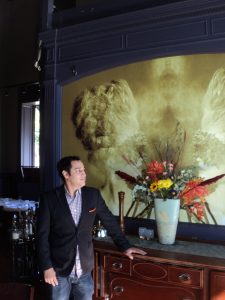 Jordan Levine has been working in restaurants since he was 16, first washing dishes at his cousin's pizza parlor before moving up to cooking and serving positions there.
Jordan attended the University of Toledo where he earned his bachelors degree in communication. During that time, he continued to expand his culinary techniques working as a baker and cook in a local middle eastern eatery, while also writing for the school newspaper.
Moving back home to Cleveland, Jordan worked for five years as a server for the Moxie and Red restaurant group in Beachwood where he learned the fundamentals of formal dining and gained a knack for creating memorable guest experiences.
Jordan continued to hone his skills as a server at L'Albatross Brasserie where he discovered his love for French food and wine. During his time there, the restaurant was consistently praised for having the best service in Cleveland.
In his free time, Jordan enjoys reading and playing guitar.
---
JON KHANNA, DIRECTOR OF EDUCATION
After completing his Bachelor's degree in Hospitality Management from Ohio State University, Jon began his pursuit of a career in the restaurant business. His love of fine dining and food started as a young boy while traveling through the States and Europe with his family. He had a particular liking for French food and the open air markets of Paris and Provence.
Jon's first job in the industry was at Sarava Restaurant, where he started as a busser, then expeditor, assistant manager and general manager. At Sarava, he planned special dinners which included a beer tasting, a Thomas Jefferson dinner and an evening in Provence. EDWINS is a perfect fit for him in that he enjoys teaching and mentoring, along with the restaurant's emphasis on fine French dining.
In his free time Jon enjoys golfing, traveling and entertaining family and friends.
---
CHRIS TERRY, CHEF DE CUISINE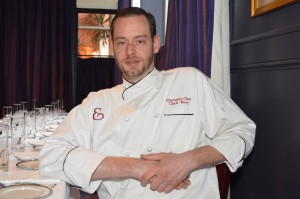 As part of the team that opened L'albatros Brasserie, Chris Terry brings a broad base of knowledge from a vast collection of experiences. Born in the "salad bowl" region of California, then being raised in the "corn belt" of Iowa and having a parent with a botanical background, Chris' love for fresh produce has been reinforced and diversified his whole life. With an expansive education background of Engineering, Automotive, Technology, and Architecture, a "big picture" view on life was developed.
After working for the state of Iowa and starting his own business, his move to the culinary world was almost by mistake. Soon he was managing kitchens around Ames, Iowa and became Chef de Cuisine of Audubon's Restaurant inside the acclaimed Gateway Hotel and Conference Center before attending classes at The Culinary Institute of America in Hyde Park, New York. Chris has since continued to grow as a Culinarian working at The Naples beach Hotel and Conference Center in Florida as well as Blue Canyon in Twinsburg, Ohio.
Chris enjoys home-brewing, gardening, and beer/wine and food pairing, in his spare time.
---
VALERIE MACZAK-GRIM, DEVELOPMENT DIRECTOR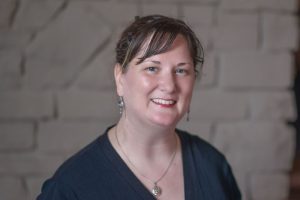 A beauty school dropout and former flight attendant, Valerie Maczak-Grim eventually graduated from Kent State University cum laude with a degree in public relations focusing on non-profit management. She ended up far away from the non-profit world, spending a decade as a managing editor and writer for a financial publisher, InvestorPlace Media, overseeing advisory services designed for options traders.
Valerie jumped when an opportunity arose to join the EDWINS family while working alongside her husband, Gerry Grim, EDWINS' Director of Culinary.
As Development Director, Valerie gets the honor of helping individuals, businesses, community organizations and foundations be a part of the success that EDWINS' students and alumni are having. She loves meeting new people, cooking with fresh produce from her garden and EDWINS' escargot.
If you're interested in making tax-deductible financial or material contributions to benefit EDWINS students, email Valerie Maczak-Grim at Valerie @ edwinsrestaurant.org or call her at (330) 268-7400.
---
AMANDA ROY, EXECUTIVE SOUS CHEF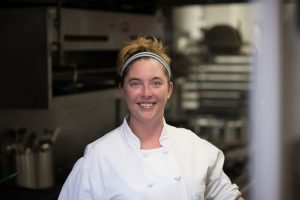 Sous chef Amanda Roy came to EDWINS from Trentina, and she brings invaluable experience and a commitment to sustainability.
She previously worked in New York at Public, a Michelin starred establishment, and spent several years there refining her speed and accuracy – or, as she describes it, learning how to "dance the four squares" around her.
Amanda also enjoyed several years in Chicago at The Butcher and Larder honing her butchery skills, and tenure at Mado gave her experience in sustainability and utilization.
A family friend who was a chef and restaurateur in Howell, Michigan, where Amanda was raised, instilled in her a love of cooking. It was at his restaurant where she learned how to first hold a knife as a young girl, and she instantly bonded to the kitchen.
Later, Amanda's formal education started at Cuyahoga Valley Career Center (CVCC) where she graduated from the high school culinary program. She attended Kendall University and earned her Associate's degree in culinary arts. While she was in school, Amanda took a position at one of Chicago's top establishments, The Everest Room, where her path first crossed with EDWINS' founder Brandon Chrostowski.
The EDWINS staff will tell you that Amanda exemplifies doing what it takes to get the job done. As someone who naturally gravitates toward teaching and mentoring, she is glad for the rare opportunity EDWINS offers to grow and share all she has learned with our students.
---
MICHELLE MATTOX, PASTRY CHEF
Michelle Mattox's passion for the culinary arts first began when she was 17, working for the Brown Derby doing food prep. She then took a position at Cleveland PM's, working the line.
Through a friend, Michelle heard about a program that helped those who deserved a fair and equal second chance, and she enrolled in EDWINS. She graduated at the top of her class in July of 2014 and earned the pastry chef position at EDWINS due to her ability to re-invent delicious pastry confections.
In her spare time, Michelle likes to teach her nieces about the culinary world, shoot a game of pool, and manage her catering company.
---
HEATHER PEDERSON, DIRECTOR OF STUDENT AFFAIRS
Heather first learned she had a passion for helping others when she was in grade school. She spent a good part of her summers helping her mother take care of her elderly grandmother. This is how Heather learned to be compassionate and how she learned the power of a smile. This blossomed into a variety of different customer service jobs that started with being an associate at the Gap, then a team leader at Atlas Café in Chicago to eventually managing a successful coffee shop for more than three years.
After working in management, Heather decided to pursue her dream of helping underprivileged youth learn about the arts. She currently attends Cuyahoga Community College.
Heather first heard about EDWINS because of her own "break" that she received in life. Since then she has dedicated herself to helping others who are in similar situations to what she was in. She started working at EDWINS in June of 2014 and was quickly promoted to Case Manager once people began to see how she truly wanted to make sure that others had a fair chance to re-start their lives, the way she was.
In her free time, you can find Heather in her garden, cooking new dishes, or walking around the metro parks looking for wild animals.
---
GRIFFIN JOHNSON, EXTERNAL AFFAIRS ASSISTANT
Griffin Johnson brings more than two decades of hospitality experience to EDWINS.
Griffin began her culinary education at the Shorby Club and then later Sergio's. She completed culinary coursework at the Art Institute of Dallas before joining L'Albatross near its inception, gaining extensive knowledge of fine dining practices and French cuisine during her five years there. Griffin helped open Chinato, and then enjoyed a position at Cowell & Hubbard for several years.
Always eager for new challenges, Griffin was excited to join EDWINS to learn more and grow within an organization. The EDWINS' mission and Brandon's philosophy of promotion and providing new challenges appealed to her.
Griffin also grew up in the Buckeye-Shaker neighborhood on 116th and Griffing, and she has seen the power of community involvement here. EDWINS provided Griffin with the perfect opportunity to give back while doing something that she loves.
Griffin also coordinates our volunteer needs. If you're interested in learning more about volunteering with EDWINS and donating your time and talents, contact Griffin at Griffin@edwinsrestaurant.org or (216) 921-3333.
---
JON BOSWORTH, BAR MANAGER
As Jon Bosworth planned his future, he was divided between becoming a teacher or going to culinary school. Jon chose teaching, completing two years at Ashland University.
Later, after fulfilling an externship at the quintessentially innovative cocktail bar, The Spotted Owl, and graduating from the EDWINS program, Jon felt like he was getting a second chance to do what he wanted to do: combining teaching and the culinary arts. He earned a position as EDWINS' Bar Manager in 2015, where he enjoys the opportunity to teach our students how to bartend.
Jon gravitated toward bar management because it requires both front of the house expertise and back of the house proficiency. He likes interacting with guests and excels under the pressure of the fast pace that the bar requires.
He enjoys putting his creativity to work when making a cocktail list. He also appreciates his continuing education and the fact that he learns something new every day at EDWINS. In fact, Jon recently passed the level 1 sommelier exam and is studying for level 2.
---
ALEXANDER CARLIN, ASSISTANT GENERAL MANAGER/WINE DIRECTOR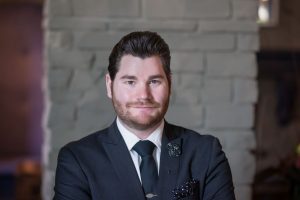 Born and raised in Baltimore, Maryland, Alexander studied English and Art History culminating with a dual degree. He began his career working for a publishing house where he focused on the manuscripts of prison writers, their stories, and publishing their works during incarceration and on the road to rehabilitation. While the job was rewarding, the economy and its pressures shut the publishing house down not long after he started.
At a crossroads, Alexander recalled his passion and love of wine from his extensive travels in Europe and decided to pursue certification from the Court of Master Sommelier's. This represented the turning point for finding his calling in the hospitality industry and his love of service. Since then, he has been at the helm for acclaimed wine programs including Michael Mina, Daniel Boulud, Jean Georges, and Mario Batali.
Alexander holds certifications from the Court of Master Sommelier's, the Wine & Spirit Education Trust, and the United States Bartender's Guild. He is also currently pursuing his Master Diploma. In his free time, Alexander enjoys spending time experimenting in the kitchen, hiking with his Sheltie, Phoebe, and attending the Cleveland Orchestra.
---
DERRICK SPEIGHTS, COMMUNITY OUTREACH COORDINATOR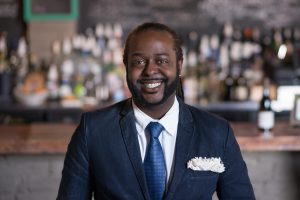 Derrick's early career was as a nursing assistant, and he later switched to the hospitality industry, earning credits in a culinary arts program.
He first met EDWINS founder Brandon Chrostowski while working at L'Albatross and, after learning his away around some of Cleveland's best restaurants, he brings more than a decade of guest relations and management experience to EDWINS. He's naturally engaging and is a skilled relationship builder.
Derrick's decision for joining the EDWINS' family was based on one thing: "I want to help people. Before, I got to help people with their dining experience; now I get to help people with their lives."
Derrick assists with programming at our student campus, the EDWINS Second Chance Life Skills Center, working with both students and volunteers. He also oversees EDWINS' efforts to establish Culinary Clubs in Ohio's prisons and leads our Town Hall series. To reach Derrick for questions about any of these initiatives, email him at Derrick @ edwinsrestaurant.org or call him at 216-295-5660.
---
REBECCA CHARLES, RESIDENT ADVISOR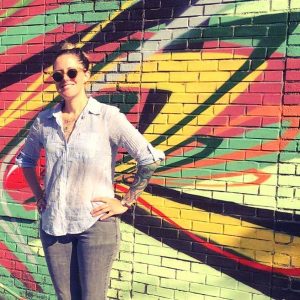 Rebecca Charles, coming from a place of 'second chances' of her own, and having been a part of the EDWINS family previously as interim bar manager, is so pleased to blend nearly 20 years of fine dining experience with her love of helping those who need guidance at our second chance life skills center. As the resident advisor, overseeing daily upkeep of the campus along with helping students realize their potential within the program is her main goal.
Along with current students, Rebecca continues to follow up with EDWINS alumni, maintaining our strong relationship with local restaurants and fellow industry individuals to ensure the success of future EDWINS graduates.
Rebecca lives on campus with her son Jack (who also believes in second chances) where the two of them study art and music along with taking care of our chickens and bees.
---