We are excited to announce the upcoming opening of the EDWINS Family Center, anticipated for the Spring of 2023!
EDWINS Family Center will provide free high-quality child care to children of returning citizens in a safe, stable, and caring environment. Our hope is to continue to break the cycles of poverty and incarceration and give our students and their families all of the support necessary to succeed and thrive.
The Family Center will follow all regulations outlined by the state of Ohio and will serve children from infancy to age 11, Monday through Saturday until 10pm. The Center is located just one block away from EDWINS, providing easy access and pick-up for families.
– Very few child care centers are open in the evening, preventing many parents working in the restaurant industry from finding safe places for their children to stay while at work.
– Families living at the poverty line spend 35% of their monthly income on childcare, a number way too high to be affordable.
– Historically, 79% of EDWINS students with children who begin the program do not complete it due to lack of childcare among other issues.
Support our Family Center through Donations
There are many items on our wish list for the new Family Center. We appreciate any and every donation. Thank you for your continued support.
EDWINS is grateful for our volunteers, and we always want to hear from caring, compassionate people who want to make a difference!
We are looking for volunteers to help with painting, cleaning, and organizing donations during the months leading up to our opening! Please contact Melissa at melissa@edwinsrestaurant.org or (216) 921-3333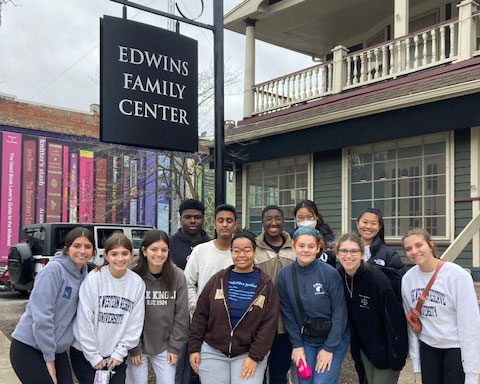 It was truly amazing to provide help for such a phenomenal organization. I enjoyed learning about the social change EDWINS has created within the Cleveland community while painting throughout the daycare. It was amazing working with everyone and such a fond memory to have!
I think it's a great idea because some students don't have the help or support outside of Edwins or the small circle that we already have," says Bobi Love, a 24-year-old Cleveland native and single mother of four who just graduated the EDWINS program "It's hard to navigate someone watching your children for you. I know I won't have to leave in the middle of service or pay someone out of pocket to care for my children and that they will be near me, so I can go straight to them after class.
It changes the game for a lot of people who want to have a second chance… It's not a true second chance until someone's got their world covered to be able to learn and live and at the end of the day, it's beautiful, we're proud and we're gonna keep going.