Edwin's 2016 graduate Andre Brown, accomplished chef and actor, pursues his culinary and theatre passions at full measure.
Warm and engaging, Andre furthers his deep involvement in theatre when he's not helming the kitchen as head chef at the Cleveland Christian Home by day.
His life is beyond busy as he balances his pursuit of excellence and creativity in both cooking and theatre, but he wouldn't have it any other way. He's living his dream.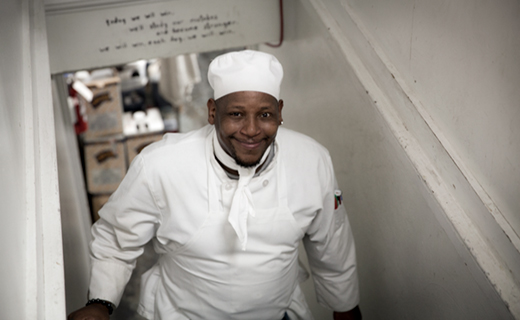 Garnering his position at the Cleveland Christian Home — which meets the physical, emotional, intellectual, cultural and spiritual needs of children, youth and families — during his last week of school at EDWINS, Andre enjoys applying the culinary prowess he gained at EDWINS at the treatment facility. He is especially fulfilled by introducing his young diners to foods they haven't yet tried while satisfying their all-important nutritional needs.
The boys at CCH are huge fans of the "Big Drack," Andre's version of a Big Mac, and also delight in the variety and range of his culinary innovations. He has a lot of fun acquainting his young diners with new flavors, exciting combinations, and attractive visual presentation – all aspects he excelled in while at EDWINS.
Andre found the EDWINS program challenging, stimulating, and hugely satisfying, especially when he qualified to participate in the recent American Culinary Federation competition in Cincinnati and returned with a bronze medal.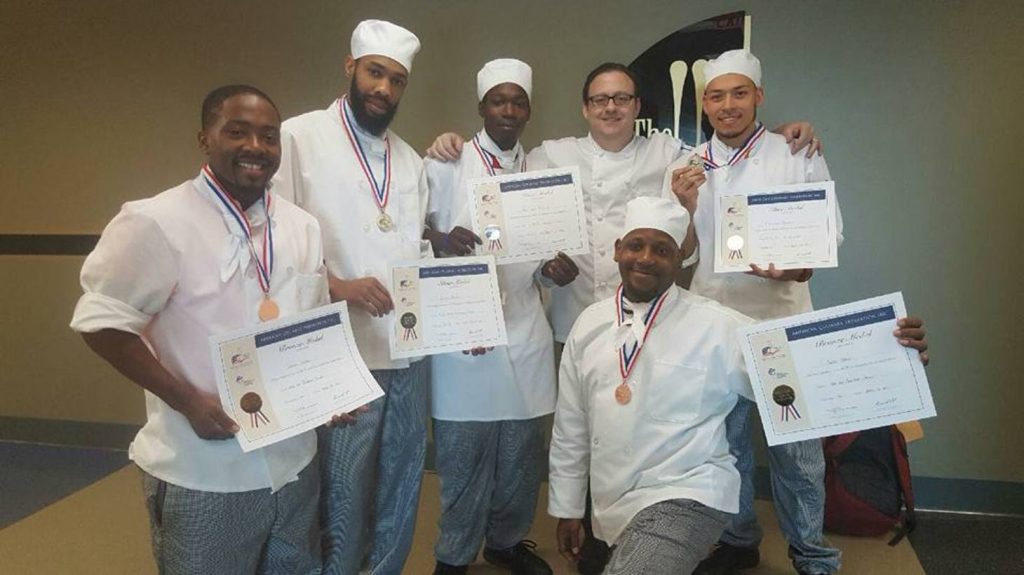 This proud father of four girls was also delighted to present Brandon Chrostowoski with the Medical Mutual Pillar for Community Service Award in 2015.
When he's not providing nourishment and support for the boys at CCH or working with his EDWINS colleagues in catering, Andre is deeply engaged in local theatre.  An avid fan of August Wilson, Andre treated audiences to a stellar performance as Gabriel Maxson in a recent Aurora Community Theatre production of Wilson's Fences.
Andre declares that his passion for theatre will always have him involved with the stage in some capacity. And his long history of engagement in local theatre is a testament to his commitment. He's served as a lighting designer, sound tech, stage manager, and recently as mentor and teacher to students in the Kinsman neighborhood Garden Valley Neighborhood House Phoenix Theatre (formally known as the new African Theatre).
His twin talents in acting and cooking were a perfect match for the performance of the classic EDWINS tableside preparation of Le Burger.  This was a production he routinely enjoyed during his training, performing for many of the surrounding tables, answering questions and engaging the diners with confidence and flair.
Andre describes the overall EDWINS program environment in words that match his own approach to life: positive and deeply committed to learning. Inspired by his mother and EDWINS, he remarks that he is "living my dream and just went to sleep," continuing his culinary journey, combining cooking and theatre in teaching and sustaining young people.