Register for the 5K Grind or 1-Mile Walk     ▶    Volunteer    ▶     FAQs   ▶   Can't Attend But Want to Support the Run for Re-Entry? Results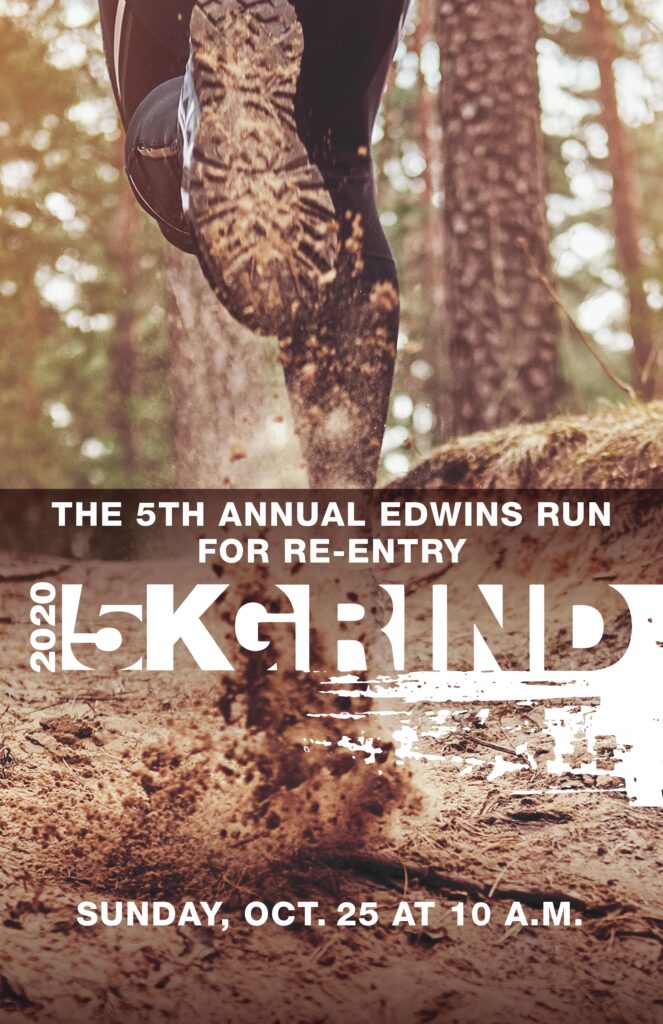 Every day men and women at EDWINS Leadership & Restaurant Institute grind it out to get a second chance after incarceration. Are you tough enough to push through the pain and pressure like they do? Compete in the 5K Grind, our fourth annual EDWINS Run for Re-Entry, to show returning citizens everywhere that YOU support their right for fair and equal futures. The race starts and ends at Shaker Square, but the course is unlike any other 5K in Cleveland. Off road. Through the water. Uphill. Unbalanced. A battle between you and the terrain.
Sweepers will be on hand to remove the injured.
5K: Pre-Registration $25 • Registration Day Of $30 1-Mile Walk Option: Pre-Registration $15 • Registration Day of $20 Registration includes a t-shirt and timing.
For more information, call 216-921-3333 or email info@edwinsrestaurant.org.
Presented in Partnership With

Runners and walkers who pre-register by October 11, 2020, will receive a race t-shirt in their requested size. (After October 11, 2020, t-shirt sizes will be based on upon availability). Online registration will close on October 23, 2020 at 9 am, but day-of registration will start at 9 a.m. on Sunday, October 25, in front of EDWINS Restaurant at 13101 Shaker Square, Cleveland, Ohio 44120.
LOCATION
Start, finish and celebrate at Shaker Square
EVENT DETAILS
Sunday, October 25 at 10 a.m. Family friendly
Proceeds will benefit EDWINS
FAQs
What do I get at the EDWINS Run for Re-Entry 5K and 1-Mile Walk? All runners and walkers will receive a race t-shirt and timing.
Where does the race course go? The 5K Grind is the hardest 5K in Cleveland, featuring a course through the heart of Doan Brook with hilly terrain, water crossings, and narrow pathways. The race starts and ends at Shaker Square, but this 5K is unlike any other in Cleveland. You'll experience an urban forest, rock formations, and surprises along the way! The 1-mile walk option will be suitable for walkers of all ages and abilities. Course map coming soon. 
Can I pick up my race packet early? Absolutely! Packet Pick-Up is available at Edwins Restaurant on Saturday, October 24 , from 8 a.m. to 12 p.m. and also on race morning, Sunday, October 25, at 8:00 a.m. before the race starts at Shaker Square.
Will there be day-of registration available? Yes, day-of registration will be available starting at 9 a.m. on Sunday, Oct. 25, for $30 for the 5K run and $20 for the 1-mile walk.
When does the 5k Grind EDWINS Run for Re-Entry start? The Edwins Run for Re-Entry 5K will begin at 10:00 a.m. on Sunday, October 25, at Shaker Square in front of Edwins Restaurant at 13101 Shaker Square, Cleveland, Ohio 44120.
How will the race be structured? We will be sending off participants in groups of 10 every 5 minutes from 10am 11am. Please choose a time slot when registering (limit is 10 people per slot).
What should I do on race day? Please arrive 10 minutes prior to your time slot. Warm up near your vehicle before you arrive to pick up your chip. Each runner will pick up their chip at the registration table and head directly to the start line and begin. If you are waiting for a friend or a group of runners, please wait at your car and come to the starting area when all participants are ready to run. The course is on public sidewalks and paths open to the public.  There are also driveways and cars so please be aware of your surroundings.  Know the course before you arrive!
Where do I park? There is public parking behind all quadrants on Shaker Square (please note there may be meters that accept all silver change). You can also park along local side streets. We suggest taking the rapid or using a ride share service for ease.
Are there awards? Yes, there will be awards for top runners and by age groups.
Can I volunteer to help out with the Run for Re-Entry? If you're interested in volunteering, please contact chriskeeney@edwinsrestaurant.org.