Tim Patrick is the EDWINS Student Spotlight of the Week. Tim is just over the halfway point in the program and just moved from the front of the house to the back.
"I've always had the passion for cooking," notes Tim. "I had an opportunity to reset my life and this was the chance to take a minute to focus on my education. This is the path I knew I needed to go down."
While he found the front of the house to be rewarding, his focus has always been on cooking. He loves firing up the grill and remarked: "I was so happy when I sent out 30 steaks in a night and not a single one came back." He's enjoyed the level of detail that EDWINS provides in its instruction. Highlights of the curriculum for Tim are learning the science of cooking and how to pair wines with various dishes.
Tim has really enjoyed the community at EDWINS. "You really feel like you a part of something bigger," he said. "They make you feel valued and part of the community."
His long-term goal is to be the executive chef and he's willing to move to a different location for the right opportunity.
Tim is a resident of the Superior neighborhood and a graduate of Collinwood High School.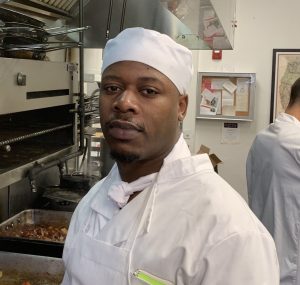 To support students like Tim, visit our donation page: https://edwinsrestaurant.org/donate/