"I had been waitressing for a while and wanted to do more," remarked Jennifer.  "I'm originally from Canton and knew I could come up here and get a fresh start."  Jennifer Wilson is approaching the halfway point of the six-month program and came to EDWINS to start over but got much more than that.
Jennifer is wrapping up her stint in the kitchen before transitioning to the front of the house. Her confidence has grown each day and she is proud that the chefs know she can get the job done.  "I'm on the grill by myself," notes Jennifer. "In the past, I would have freaked out but now I know I'm capable of doing the job."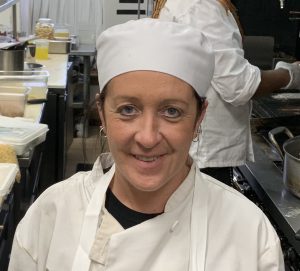 Jennifer credits the family atmosphere at EDWINS with her success. "The teaching is what makes this different. I feel like I'm family here," she said.  "Everyone has been so good to me. This is my family now." She wants to move into management positions after EDWINS and eventually be an owner of her own business.
Jennifer has a son and daughter who currently reside in Canton.
To continue supporting students like Jennifer, check out our Donate Page: https://edwinsrestaurant.org/donate/