Gullah Cuisine Dinner
September 14 @ 6:30 pm

-

9:00 pm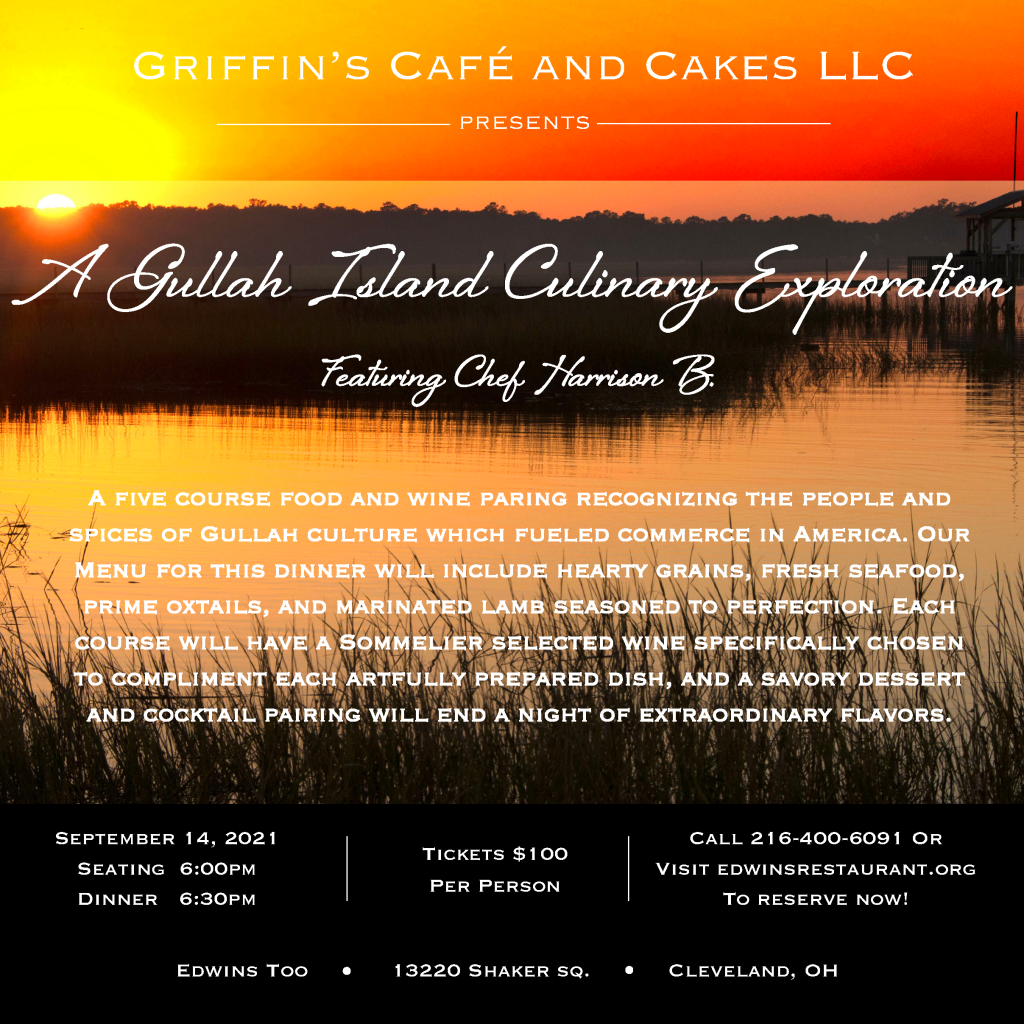 Tickets here:
Griffins Café and Cakes LLC
Presents:
"A Gullah Island Culinary Exploration".
Featuring: Chef Harrison B.
A 5-course food and wine pairing.  A dinner spotlighting the rich flavors and spices of Gullah Island cuisine.  This dinner is to encourage and educate while bringing inclusion to the culinary industry.  Recognizing the people and spices of Gullah culture which bought commerce to America.  Our Menu for this dinner will include hearty grains, fresh seafood, prime oxtails, and marinated lamb seasoned to perfection.  Each course will have a Sommelier selected wine chosen to pair correctly with each dish.  The Desert and cocktail will end a night of flavors.
Menu
1st Course
Oxtail Consume with burnt corn, peas, roasted baby tomatoes, braised oxtail meat.
2nd Course
Lima bean and Arugula salad with oysters 2 ways fried and smoked, pickled shitake mushrooms with a champagne vinaigrette
3rd
Collard green seafood wrap with a lobster and shrimp remoulade, and Carolina gold.
4th
Marinated lamb tenderloin with couscous, with a mint cherry herb glaze, roasted peppers, spice, and confit okra and scallions.
5th
Sweet potato bread pudding with a garlic caramel and vanilla bean ice cream and candied pecans.
This dinner will feature wines from the McBride Sisters and Brown Estates. The Cocktail selection will feature spirits by Uncle Nernst.
Chefs Bio
Chef Harrison B. is a graduate of Bryant and Stratton College 2007.  After graduation he pursued a career in Sales and marketing working with one of the largest print publications in Cleveland, Black Pages Ohio. When the business climate slowed in 2009, he went back to school and became a State Tested Nurses Assistant.  During this time, Harrison gotten him-self into trouble with the law which ended his medical career.  In 2015, unsure of his career path he decided to continue his education in the culinary field after hearing about a program geared towards second chance efforts.  Edwin's Leadership and Restaurant Institute.  He enrolled completed the program and graduated with skills and knowledge enabling him to pursue a career in food and hospitality.FLyer

Since 2015, Chef Harrison B. has worked in some of the hottest restaurants in Cleveland area.  He has honed his skills while climbing the career ladder and decided to put his skills and knowledge forward for a night to remember.  "A Gullah Island Culinary Exploration." A five-course food and wine pairing dinner.  Inspired by the Netflix series "High on The Hog" Presented by Griffins Café and Cakes LLC, a new concept restaurant; gives him the opportunity to work alongside founder Griffin Johnson as she becomes a part of the food scene in Cleveland.