James Beard House - January 17, 2018
We are excited to announce that on Wednesday, January 17, 2018, EDWINS will be cooking at the James Beard Foundation in New York City!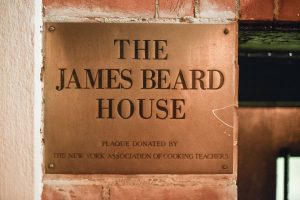 Continuing in the long-standing tradition of great chefs the likes of Charlie Trotter, Jacques Pépin and Marcus Samuelsson and including local chefs like Michael D. Symon, Paul Minnillo and Matthew Mytro, we will be preparing a five-course tasting menu paired with wine. What makes this event special for us is that it will be prepared by our current class of students.
See the menu and event information here.
You can join us as we travel to New York City and embark on a grand French adventure! Tickets for this dinner are available by calling 212.627.2308.
We hope to see you there! Without your support, none of this would be possible.

---
Can't Make it to the Beard House?
On Wednesday, January 24, at 6 p.m. we will be hosting our own version of the James Beard dinner at EDWINS Restaurant.
Join us as we recreate the full menu in the intimate setting of EDWINS.
Tickets are $250 plus tax. Call 216.921.3333 to reserve a seat today!
---
Fromage & France: An exploration of France through cheese - January 30, 2018
uesday, January 30 at 6:15 p.m. as guests will be guided through seven cheese and wine pairings as we explore France and its most famous cheese regions. Mingle and nosh on hors d'oeuvres & mignardises while enjoying live entertainment and learning the subtle contrasts in the perfect pairing!
"Wine and cheese are ageless companions, like aspirin and aches, or June and moon, or good people and noble ventures." M.F.K Fisher
$75 plus tax
Reservations required by calling (216) 921-3333.
---
Je t'aime: A Night of Passion, Opera, Food and Wine at EDWINS
Join us Monday, February 19, at 6 p.m. as we will be offering a five-course dinner that captures the essence of love with the Cleveland Opera Theater.
Enjoy as food and wine evoke the feelings of love, passion, heartache, romance and lust all set to Opera performances that seize on our deepest desires and passions. From Puccini, Mozart, and other favorite opera composers, diners will have a chance to feel what was in the heart of the composer and the chef.
Perfect for a unique Valentine's Day date experience!
Tickets:
$175 per person
$150 per person for Obstructed View
Order Tickets By Phone: 216.921.3333
Visit EDWINS During an Open House
Interested in learning more about EDWINS' mission to change to face of reentry? Join us for a tour of the restaurant and campus to see all that we are doing!
We offer regular open houses for people just like you to come visit and learn about the EDWINS program.
View our scheduled open houses by clicking here.
Thank you for an RSVP, as space is limited.