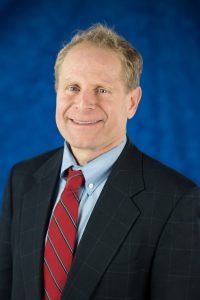 Edward Kraus is a graduate of Cleveland Heights High School, The Ohio State University and Cleveland-Marshall College of Law.  His 29-year legal career began in the public sector as a criminal trial attorney and has been devoted to service, safety and strengthening communities.
Mr. Kraus was appointed by Cuyahoga County Executive Armond Budish to Director of Regional Collaboration in January 2015 and was confirmed by Cuyahoga County Council shortly thereafter.  Kraus leads the office that was created in 2011 to focus on strategic community partnerships that lead to efficiency and savings for taxpayers.   The Department of Regional Collaboration markets and promotes services that save municipalities' time, money and personnel costs.
Mr. Kraus worked as an Assistant County Prosecutor in the Criminal Division from 1987 through 1994 prosecuting hundreds of drug trafficking, felonious assault and murder cases. In 1994, Krause joined the Javitch Block law firm as a trial lawyer handling a wide range of commercial litigation cases that kept him in court rooms across the state.
Returning to the public sector in 2007, Mr. Kraus served as the supervising attorney for the Cuyahoga County Mortgage Fraud Task Force, a collaboration of federal, state and local law enforcement agencies.  The task force was responsible for investigating and prosecuting large RICO cases involving hundreds of individuals, thousands of properties, and tens of millions of dollars in fraud.  The task force used sophisticated law enforcement technology and cross-agency collaboration to pursue both local and national criminals who took advantage of the highly elastic housing market. This operation was one of the largest mortgage fraud task forces in the nation.
Mr. Kraus was elected to Solon City Council in 2001 and has served Ward 6 since. He currently serves as Chairman of the Finance Committee. From 2010-2015, he served as Vice-Mayor.
Mr. Kraus is married to Bonnie, whom he met at Cleveland-Marshall. They have three children and live in Solon. Kraus is an avid runner, enjoys photography and coaches youth basketball in the Solon Recreation League.
Be sure to register today to reserve your spot at this year's Re-Entry Business Summit to get the insight from Mr. Kraus and all of the Summit speakers!